Master's Degree Program / Major in Contemporary Cultural Studies
The Major in Contemporary Cultural Studies aims to foster specialized professionals and researchers who have the specialized knowledge related to information, culture, philosophy, psychology, and life health sciences. To achieve this aim, this program intends to systematically endow students with the advanced knowledge and the methods for interdisciplinary analyses on information, culture, philosophy, psychology, and life health sciences to cultivate the skills to identify and explore issues involving contemporary cultures.
Degrees to be awarded

Master of Arts, Master of Philosophy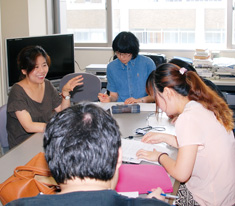 Major in Contemporary Cultural Studies
Information society culture
Media culture
Motion picture I
(Minori Ishida)
Motion picture II
(Joon Yang Kim)
Representation culture
(Bamba Satoshi)
Text culture
(Kenji Inomata)
Media cultural history
(Keiichi Tsumori)
Popular culture
(Yoshiaki Kai)
Body expression
(Yoichi Saito)
Discourse theory
(To be determined)
Cultural space theory
(Tetsuo Sato)
Contemporary art culture
(Yoshihiko Tanji)
Local fine-arts culture
(Hirotoshi Yaginuma)
Western music culture
(Koji Tanaka)
Music creation theory
(Kensaku Shimizu)
Information society
Information system theory
(Takashi Nakamura)
Information society theory I
(Yutaka Koga)
Information society theory II
(Kazuhisa Furuta)
Information society theory III
(Ken-ichi Harada)
Theoretical sociology I
(Katsuhiro Matsui)
Theoretical sociology II
(Ken Uchida)
Gender theory
(Nahoko Sugihara)
Social network theory
(Noboru Watanabe)
International society study
(Yasuyuki Sato)
Cultural anthropology
(Kiyoshi Nakamura)
Modern literacy theory I
(Yoshitaka Abe)
Modern literacy theory II
(Tsutomu Okano)
Social epistemology I
(Kenji Kamamoto)
Social epistemology II
(Yuji Tanaka)
Modern human science
Modern thought
Science culture
(Hiroyuki Iyama)
Religion thought
(Kaoru Aoyagi)
History of Western thought
(Fukuko Abe)
Modern ethics
(To be determined)
Comparison philosophy
(Yusuke Miyazaki)
Cognitive philosophy
(Koji Ota)
Educational philosophy
(Manabu Fukuda)
Mental science (basic mental course)
Cognitive philosophy
(Ryosuke Niimi)
Consciousness psychology
(Nobu Shirai)
Comparative psychology
(Kotaro Suzuki)
Educational psychology
(Taketoshi Sugisawa)
Environmental psychology
(To be determined)
Social psychology
Fukushima Osamu)
Life span developmental psychology
(Kenji Matsui)
Handicapped-child psychology I
(Hiroyuki Arikawa)
Handicapped-child psychology II
(Ruriya Watanabe)
Handicapped-child linguistics
(Maiko Iriyama)
Mental science (clinical mental course)
Clinical psychology
(Ayako Kohori)
Clinical mental assessment study
(Tsunehiko Tanaka)
Psychotherapy theory
(Tomoyuki Yokoyama)
Life healthy behavioral science
Life healthy behavioral science
Health promotion wellness
(Seiji Tanaka)
Motor-function study
(Yukihiko Ushiyama)
Physical exertion culture
(Hideshiro Kobayashi)
Health education
(Naomi Kasai)
Body development study
(Takeshi Yasaka)
Underwater kinematics
(Masaaki Oba)
Lifelong sport theory
(Toshio Murayama)
Gymnastics psychology
(Yasushi Mori)
Exercise physiology
(Tatsuro Amano)
Application health science
(Junichi Kasamaki)
Clothes environment-assessment study
(Momoko Sugimura)
Clothes environmental material science
(Kazuyoshi Nakamura)
Food environmental science
(Tomoko Yamaguchi)
Living environment study
(Yukari Iino)
* Four compulsory subjects are offered as subjects common to the Graduate School, which include Specific Research I, Research II, Specific Research III, and General Seminar.
In addition, Each of all subjects listed above is accompanied by two subjects that are Advanced Lecture and Seminar.
* Names of teachers and Course Titles are subject to change.