To Current Students
There is no article.
Services of Academic Affairs Division
Academic Affairs Division supports Graduate School students of Modern Society and Culture for their student life including administrative procedures, as well as welcomes inquiries from prospective students. If you have any further inquiries about application process, please do not hesitate to contact us at Graduate School of Humanities, Social Sciences and Education Building.
※ We accept request from former student for issuing a certificate. After receiving a Certificate Request Form, it takes three business days to issue the certificate. Make sure to request the certificate well in advance.(To See about Issuance of Certificate) )
Front Desk Opening Hours
8:30 to 17:15 on weekdays
※Opening hours of Evening Program Office : 17:30 to 21:20 on weekdays
※ Please note that the Evening Program Office is closed during office summer and winter holidays.
Phone: 025-262-6826
FAX: 025-262-7457
Email:jimugen@cc.niigata-u.ac.jp
Place
Ikarashi Campus, 8050 Ikarashi 2-no-cho, Nishi-Ku, Niigata City, Niigata 950-2181
1st Floor, Building D, Humanities, Social Sciences and Education Institute Building (Enter the front entrance beside the Clock Tower and go straight. Located on the left side)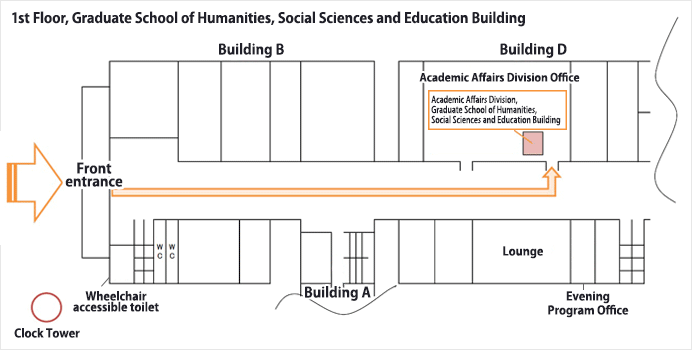 To Current International Students
Checking of Mailbox for International Students
Personal Mailbox is available for international students
(Mail box for students of Master's program, research students, and international exchange students is placed beside the Front Desk of the Academic Affairs Division. Mail box for Doctoral program students is placed at the 2nd floor of Building of Modern Society and Culture ).
Please be sure to check your mail box when you come to school. Notices and information from the Academic Affairs Division are posted at any time.
Renewal of residence card
For the renewal of your Residence Card, make sure to check the expiration and renew it well in advance (It is applicable from 3 months before the expiration date).
Forthe documents required by the competent authorities for your renewal, please apply the Academic Affairs Division. It takes three business days to issue them after the Division received your application.
Please ensure to come to the Academic Affairs Division with the newly issued Residence Card, when the expiry is renewed.
Communication made from the Academic Affairs Division
Please be sure to respond to any contacts from the Academic Affairs Division (posted on the bulletin board, by phone, or by email etc.).
We contact you about important matters such as your enrollment, procedures for your residence etc. If you miss to check the bulletin board or messages or fail to respond to our call, disadvantages and inconveniences would be caused on you. Please contact us as much as possible when you missed the call and found a call from us.
When you return to your home country temporarily, please make arrangement for e-mail transfer setting so that you can check the mail from Academic Affairs Division. Before depart to your home country, please ensure to submit us your Notification of Temporary Departure from Japan. Please be sure to check the bulletin board at least once a day.
Strict deadlines of documents submission
When you are asked to submit any documents from the Academic Affairs Division, please be sure to check the deadline and strictly observe the deadline. If you cannot submit in time, or if unavoidable circumstances arise, please contact the Academic Affairs Divisionr immediately. Strict observance of the deadline and time limit is essential for your comfortable life spending in Japan even outside the university.
Please be careful to strictly observe the deadline and time limit so as not to cause disadvantage or loss of reliability on you.
Application Forms
FAQ
Frequently Asked Questions FAQ
Various Links (For current students)
Niigata University core station

The most updated information of the three organizations i.e. Regional Culture Collaboration Center,the East Asian Rim Research Center and the Institute for the Study of the 19th Century Scholarship
in a group of the Graduate Schools of Humanities and Social Science can be acquired at this station.
The list of the names of persons who were awarded for doctoral theses since AY1996 is availabe in PDF file.
To seethe list for the period from AY1995 to AY2003 To see the list for the period after AY2003.
Limited link
(accessible for a charge only from the PCs placed at the Computer Room of the Graduate School of Modern Society and Culture).
Nii paper information navigator, the computer room in the Building of the Graduate School of Modern Society and the computer room for the graduate school students in the Master's degree program are respectively registered as a corporation. Some of PDF files are accessible.