Master's Degree Program / Major in Economics and Management
The Major in Economics and Management aims to foster specialized professionals and researchers who have the advanced knowledge related to economics and management. To achieve this aim, this program intends to systematically endow students with the advanced knowledge and the methods for interdisciplinary analyses on economics and management to cultivate the skills to identify and explore the issues related to the multilayered and complex economic phenomena involved in today's increasingly globalized society.
Degrees to be awarded

Master of Economics, Master of Business Administration, Master of Public Management, Master of Philosophy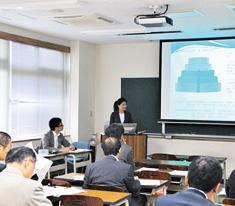 Major in Economics and Management
Economic society
Theory and measurement economy
Microeconomic theory
(Takeshi Yamazaki)
Econometric analysis
(Nobuyuki Ito)
Financial theory
(Tetsuya Kasahara)
Market and organizational theory
(Yasunari Oya)
Industrial organization theory
(To be determined)
Environmental economics
(Fumiaki Todo)
International economics
(Masakazu Naito)
Labor economics
(To be determined)
Game theory
(Koji Takamiya)
international macro-economics
(Takeshi Nakata)
Global social economy network
Business information analysis
(Masato Nagai)
Economic policy
(To be determined)
Finance
(Mutsuhito Negishi)
History of the world economy
(Yukimura Sakon)
History of comparison economic thought
(Shutaro Muto)
American economy
(Takuma Omori)
Russia Eastern Europe economy
(Mayu Michigami)
EU economy
(Ken Fujita)
Chinese economy
(Yuki Mizoguchi)
Developing country economy
(Kozo Ishikawa)
Political Economy
(Toru Shibata)

                  
Management Accounting
Management
Public economics
(Masaki Nakahigashi)
Public management
(Eiji Sumi)
NPO theory
(Akira Sawamura)
Macro-economics
(Yukiko Hasegawa)
Microeconomy analysis
(Kojun Hamada)
Local public finance
(Kunihisa Shishido)
Management information
(To be determined)
Management-strategy theory
(Ryoji Ito)
Management organization
(Akira Kimata)
Organizational behavior
(Yasuyuki Kishi)
Accounting
Accountancy
(Yumi Inamura)
Financial accounting
(To be determined)
Cost management (Satoshi Arimoto)
Management Accounting
(LEE Gunyung)
International accounting
(Hisao Kai)
Management taxation
(Hitoshi Demura)
Tax theory
(Kazuo Fujimaki)
* Four compulsory subjects are offered as subjects common to the Graduate School, which include Specific Research I, Research II, Specific Research III, and General Seminar.
In addition, Each of all subjects listed above is accompanied by two subjects that are Advanced Lecture and Seminar.
* Names of teachers and Course Titles are subject to change.